طعم عمان
Arrive in Muscat
Welcome to Muscat.
On arrival at Muscat airport, you will be greeted by our representatives and you will be transferred to the Hotel.
The day is at leisure.
Overnight stay will be at a hotel in Muscat.
Muscat City tour
Enjoy breakfast at your hotel.
Today, you will taken on a city tour of Muscat.
The tour begins with a visit to the beautiful Sultan Qaboos Grand Mosque, one of the largest mosques in the Middle East.
We will then visit Muttrah Souq and venture through its labyrinthine of alleyways filled with traditional Omani products, from imported fabrics to exotic Oriental spices, perfumes and richly handcrafted artefacts. If you are in the mood for shopping you will find everything from famous Omani khanjars (daggers), antiques, traditional silver jewellery and hand-made Omani costumes.
After the Souq we will then drive to Bait Al Zubair Museum where you will find a collection of traditional Omani Weapons including swords, daggers, rifles & their accessories. You will also find a huge collection of jewellery, cosmetics & costumes from various regions of Oman.
We then drive to the magnificent Al Alam Palace, the official residence of His Majesty Sultan Qaboos Bin Said the ruler of Oman.
Overnight stay at your hotel in Muscat.
Muscat - Wadi Bani Khalid - Sharqiya Sands
Enjoy breakfast at your hotel and get ready for an exciting day.
Drive to Wadi Bani Khalid one of the most beautiful wadi's in Oman.
On the way to Wadi Bani Khalid we will drive through the Eastern Hajar Mountains where you will see the most incredible views of the Omani landscape.
Once we arrive at Wadi Bani Khalid we will take a short trek to the deep blue pools of the wadi. It is advisable to wear light comfortable clothing and walking shoes. Here you will also have the opportunity to take a swim in the glorious deep blue pools of the Wadi.
Later we will drive to Wahiba Sands, a vast ocean of red sand and dunes. Some of the dunes reach over 200 meters high. The area is also home to a wide variety of flora and fauna.
You will then enjoy an adrenaline-filled drive through the dunes. The Wahiba Sands is also home to the traditional Bedouin tribe and you will have the opportunity to visit a Bedouin family and learn about their ancient traditions.
Overnight stay at a selected camp.
Sharqiya Sands - Sinaw – Nizwa
After breakfast we drive to Sinaw, in A'Sharqiyah where you will pay a visit to the famous Sinaw Souq.
One of the highlights of the souq is the livestock market. Here camels, goats and calves are auctioned and bartered.
After Sinaw Souq, we drive to Jabrin and visit Jabrin Castle. Here you will take a trip back in time to medieval Oman. The 17th century fort is one of Oman's finest castles and has some exquisite hand-painted ceilings.
Later we visit Al Hamra Village nestled in the foothills of the Jebel Ahkdar. The village is known for its multistory mud houses which are among the oldest in Oman.
Later we then visit Misfah, a pretty village with stone houses built on the side of a huge mountain cliff. Bring your camera because the views are incredible.
Overnight stay at hotel in Nizwa.
Nizwa - Jabal Akhdar - Nizwa
After breakfast we will visit Nizwa Souq.
The highlight of the Souq is the Cattle Auction which takes place every Friday and we highly recommend you visit if you are in Nizwa on Friday. You will have the opportunity to explore the air-conditioned halls of the souq which are full of fresh fruit and vegetables, herbs and spices, huge stacks of dates and freshly caught fish. Later you will visit Nizwa Fort. The 17th century round tower fort is one of Oman's most impressive towers.
While at the fort you will take in breath-taking panoramic views of Nizwa and the surrounding plains! Fun fact – The fort was designed to withstand the vibrations of 24 cannons.
We will then drive to the village of Barkat ul Mauz where you will enjoy a walk through the lush green date plantations.
We will then continue our drive through Wadi Al Madeen and make our way to Jebel Akhdar (2000 mts above sea level). Jebel Akhdar is one of the jewels of the Al Hajjar mountain ranges and a truly unique spot in the Arabian Peninsula. The area is famed for its fruit orchards, natural springs and most importantly…incredible views.
After the tour drive back to Nizwa.
Overnight stay at hotel in Nizwa.
Nizwa - Wadi Bani Auf - Muscat
After breakfast you will check out of your hotel and make your way back to Muscat.
We will drive through Wadi Bani Auf and take you on one of the Middle East's best 4WD adventures.
The drive includes a visit to the village of Bilad Sait, a remote fortress village in the heart of the mountain range and also a visit to Nakhal Fort.
Nakhal Fort is one of the most famous pre-Islamic fortress' in Oman and was used by the well-known Bani Kharous tribe many centuries ago.
Later we will stop at Nakhl springs, where you will find a luscious green oasis surrounded by the majestic Jebels (Mountains).
Late in the afternoon, we drive back to Muscat.
Overnight stay at hotel in Muscat.
Depart Muscat
Breakfast at your hotel.
Check out of the hotel and drive back to Muscat International Airport and board your flight back to Doha.
Depart Muscat.
Sheraton Oman Hotel (Payable Upgrade)
Meal Plan: Bed & Breakfast Well-positioned in Muscat Central Business District, Sheraton Oman Hotel is the ideal point of departure for your excursions in Muscat...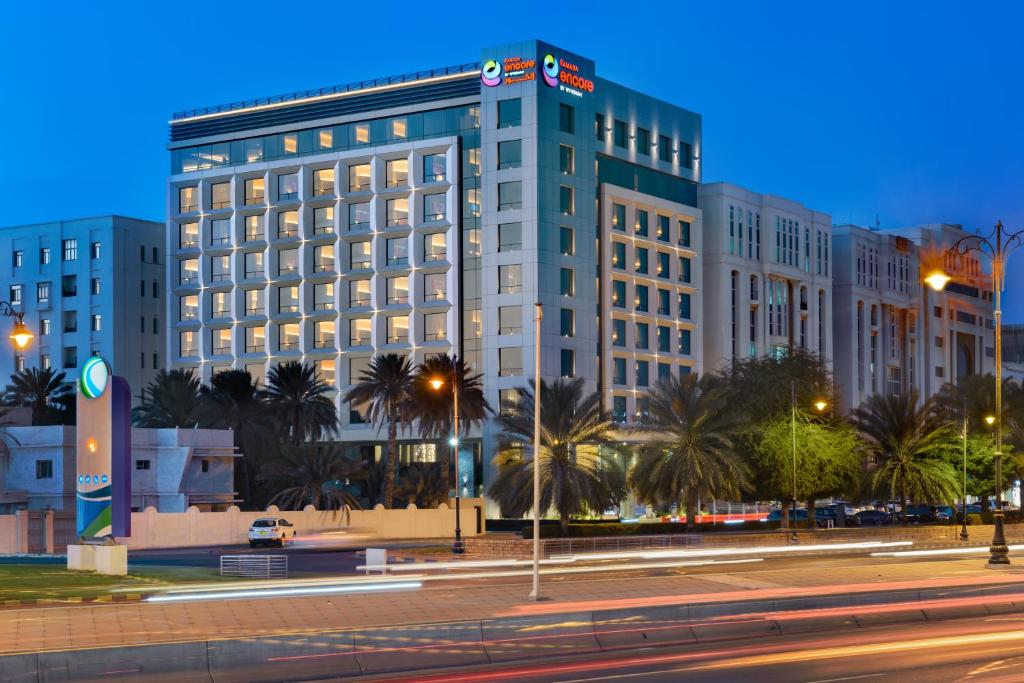 Meal Plan: Bed & Breakfast In a stately building offering views of the Al Hajar Mountains, this informal hotel is 2 km from Muscat Grand Mall and 13 km from Muscat International Airport...
Return economy airfares with Qatar Airways
Arrival & departure airport transfers by private vehicle
Exclusive small group tour with a maximum of 9 guests
6 nights' accommodation in 4-star hotels with an option to upgrade to 5-star: Ramada Encore (or similar) or 5-star hotels Sheraton (or similar), depends on the selected price
Delicious breakfast daily, plus 1 dinner under the stars and 4 lunches
Transportation in designated vehicles
English speaking driver-guide throughout the itinerary
Entrance fees to monuments wherever applicable
Bottled mineral water during the tour
All applicable current taxes
Visa
Tips
Optional sightseeing tours and activities not mentioned in the program
Lunch or dinner not specified in the itinerary.
Travel Insurance.
Tours, entrance tickets not specified in the itinerary.
Any other service not included in the Inclusions.